43 Best Working Sites to Download Free Ebooks
43 Best Working Sites to Download Free Ebooks
FREE Ebooks SITES
Best Working Sites for PDFs
In the field of eBooks, LibGen is an interesting term, since this Russia-based platform is simply a search engine that lets you download books and science-related posts. It enables paywalled material to be accessed for free, including PDF files for the stuff on the Elsevier Science Direct platform. While the platform appears to face legal challenges related to the pirated links to books and articles offered, the site is still accessible across multiple domains.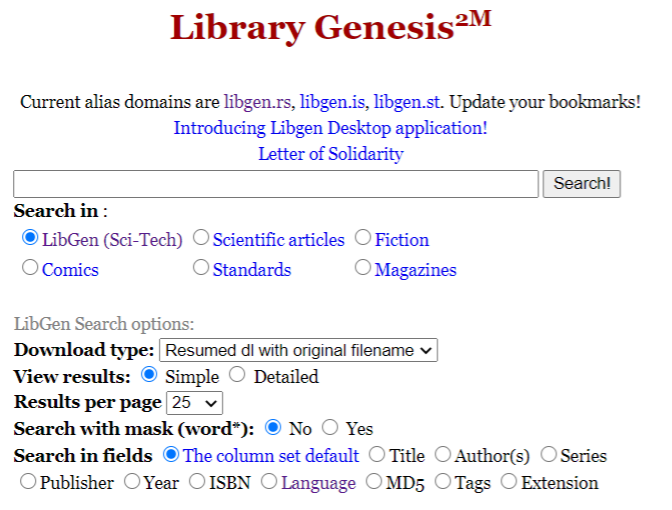 The largest ebook library.
Part of Z-Library project. The world's largest ebook library
As the name means, the Open Library includes a library of Internet Archive books and lists them in the open library. The library catalog can be edited as an open access initiative, helping to build a web page about every book written to date. You can read books for free from here and also contribute or correct them. Over 1 million free e-Books and the option to search using topic, title and author are available on the website.
Being an Android smartphone owner may have its own benefits, since you can control your computer or tablet from its Google Play marketplace or Google eBookstore to be exact. You should go to its "Books" section and pick the "Free" option that includes hundreds of classics, contemporary bestsellers and many more to access free books from the vast list. In addition to reader feedback and scores, there are plenty of genres and formats (ePUB, PDF, etc.) to select from.
Best Working Sites
Amazon has a website with a free section that features best free books for download for all Amazon Kindle customers. On your Kindle tablet, log in to your Amazon account, pick your favorite collection by author, name or genre, and download a book that is pretty easy. There's a lot more on Amazon to try, from science fiction, fantasy, classics to thrillers. The best thing is that, before you download a novel, you can even read consumer feedback while you can search through new books according to your preference.
As an ebook, you can download books that are no longer accessible anywhere from the Internet Archive. This is an online service not for profit that helps you to borrow eBooks from the online library free of charge. It is essentially a search engine that enables you to search for outdated books for free from more than 466 billion websites, particularly for historical and academic books.
Get free ebooks from a selection of over 33,000 books with ManyBooks for your ebook reader, PDA or iPOD. It features an eye-catching front page that helps writers, latest feedback, languages, titles and more to search through books. Not only can you have a lot of free things to pick from, but most of the reading devices such as eReaders can read eBooks. IPads, Kindle, and Nooks.
BookBoon is exactly what you want, whether you are a student who wants books relevant to their subjects or a traveler who likes to read on the go. It offers you access to open, PDF-format eBooks. The platform contains over 1000 free eBooks for you to read, from company books to educational textbooks. The downloads require no authentication and the site is incredibly easy to access.
FreeBookSpot might be the best option for your needs if you are an admirer of books. You can browse for free eBooks with about 5ooo free eBooks through their huge online list. There are a whopping 96 groups that fill a room of 71.91 GB to select from. The best thing is that you don't need to register and you can read hundreds of fantasy, scientific, tech, and several other free eBooks.
If you keep track of new writers' books and love to read them, the best medium for you is Free eBooks. The platform provides a broad variety of eBooks by individual writers, from self-help or business creation to fiction. You may select from a long list of categories, including wellness, comedy, fantasy, suspense, relationship, company and several more. From the featured eBooks, you may also opt to search the Top10 chart, the new releases or the latest audio books. In the search bar, you only need to register and enable your free account, navigate through the categories or search for eBooks, pick TXT or PDF as your favorite format and enjoy free reading.
DigiLibraries is a free set of eBooks that continues to expand day by day. They provide a broad variety of digital format titles, intended to provide quality, quick and essential downloading and reading services.
By title, author and topic, books may simply be browsed or searched for. The eBooks can be downloaded for reading online and on any laptop, as they provide downloadable PDF, ePUB and Mobi formats, with a download cap of 50 eBooks a day.
You will view and import a ton for free from the publishing site called Issuu, from books, magazines and tutorials. The content is created by popular and independent authors and, if you have an account, you can read them all. And if you do not have an account, you can read several books on the web as well. For free eBooks, if you have an account with Issuu, you may access the writers who encourage you to read their books free of charge.
LibriVox is a special website where free audiobooks can be accessed. Volunteers from over the globe read the audiobooks which are able to listen on your smart screen, iPODs, laptops and may also be burned onto a CD. Classic literature and books that are outdated are still in the libraries.
GetFreeEBooks is the perfect place for you if you are a book buff and are searching for legal content to learn. It offers you access to its wide free eBook database that varies from schooling and research, computers and the internet, enterprise and fiction to novels and much more. That's not it, since a number of similar posts can still be found on the website.
FreeComputerBooks is named after it and provides a broad variety of computer-related eBooks, lecture guides, algebra, programming, videos and technical books, all free of charge! The platform has 12 key categories and more than 150 sub-categories, and all of them are well arranged so that you can quickly access the necessary items. So, if you're a tech nerd, one of your best choices could be FreeComputerBooks.
Baen is an online site that helps you to read your preferred eBooks and a small number of free books to borrow. The free portion, even if limited, contains an amazing selection of fiction and non-fiction. Then you only need to search through the collection of books to import eBokks, pick the one of your choosing and convert it to MOBI, RTF, EPUB and other reading formats. However, you need a special software or use your machine to unzip the zip archive, because it gets imported into a zip file.
KnowFree is the perfect place to openly distribute and trade eBooks whether you have an eBook, video guides, or other books that will support anyone. Although you should assist each other with these eBooks for instructional needs, self-practice still works. There is even more you can learn on this web, best known for free eBooks in the category of information technology research, case studies, eBooks, magazines and white papers.
For students who are searching for eBooks relevant to their course, Accessible Culture is ideally adapted. The platform provides more than 800 free eBooks for students, and it also features popular writers such as William Shakespear, Stefen Zwaig, etc. that give them an advantage on literature in classic fiction books. Generated by actual editors, the collection of categories is revised regularly.
Details on free computer books, downloadable books, eBooks and sample chapters in Computer Science, Marketing, Math, Information Technology, Science, Industry, Physics and the Internet are offered by OnlineProgrammingBooks. Writers and publishers have these articles. It is a basic website with a well-arranged interface to pick from and lots of categories.
LEanPUb is certainly out of the league since you can opt to read a book free of charge or purchase the same book at your own listed price here. The eBooks are available for free in numerous formats, such as EPub, Mobi, and PDF. The author sets the minimum price for the books at $0 and you will determine the worth of the book afterwards. The website primarily includes eBooks on programming languages such as JavaScript, C#, PHP or Ruby, guidebooks and more, and is therefore familiar to developers or computer geeks and mostly useful for engineering training.
Only go to BookYards and download educational materials, eBooks, material and content that is widely accessible to anyone if you have an internet link. You may either publish books, download eBooks dependent on authors/categories, or exchange links for free on the site page. You will have the luxury of volunteering, installing the iBook software and visiting the links for school.
FeedBooks offers public domain books showcasing common classical novels by prominent writers such as Agatha Christie and Arthur Conan Doyle. You will import texts from the web in nearly all big formats, such as EPUB, MOBI and PDF. The platform does not need you to register, so you can directly download books from the categories specified on the left-hand menu. The best thing is that FeedBooks is simple to access and is a fast website.
With a collection of over 30,000 eBooks accessible for free rental, the Online Books Page offers a broad variety of books. With 5 main categories and the appropriate sub-categories, the website is incredibly simple to grasp and navigate. You may scan for new listings, writers, names, subjects or series in order to download books. You may, on the other hand, even search for details through news, features, archives & indexes and the inside story.
EBookLobby is a free source of numerous types of eBooks, such as computers, arts, education, and industry. There are many sub-categories to choose from which you can choose from the several books they include. You should also look at their list of Top10 eBooks, which makes it simpler for you to select.
AvaxHome is a fairly easy website that gives links to hundreds of free downloadable eBooks in various categories. Among several other groups, it is believed to be one of the main non-torrent file storage sites that features an eBooks&eLearning section. It includes a vast database of free eBooks gathered from around the globe. You need to be very well versed with the web to get the specific information you are searching for, because there are thousands of sites.
O'Reilly Media, founded in 1978, is a world-renowned website for free downloading of books, magazines and tutorials. They are now popular for digital books, even though they began off with print publications. There is a large range of eBooks on the website in categories such as the IT sector, computing, electronics, etc. However, you can download the books in PDF format, but you need to sign up with your name and email address to get links to the free downloads.
Alive and Free gives you access to ebooks of fiction written by individuals still alive today.
The World Library of PDF Books is a high-quality resource for free PDF books that are digitized versions of books that have achieved public domain status. Our goal is to convert the most popular works of legendary writers into a modern reading room. For readers of all ages, including fiction, non-fiction, academic and children's writings, we publish PDF books on many subjects.
Access tales from around the world at the International Children's Digital Library.
Wikibooks is an open-source textbook collection that volunteers can edit in the spirit of Wikipedia.
In 91 categories, our e-Library includes 8,145 ebooks to download.
– Find an e-book that interests you and read past readers' reviews.
– We've got over 500 e-books free of charge!
-Write a review and share with other readers your opinions.
– View the current list of books with the highest ratings.
Planet Ebook in ebook format is a great source of classical literature.
Here are some other articles you might love if you liked this post:
Websites for Book Deals: Free and Low Priced Ebooks, Print Books and Audiobooks
70: Ebook Promotion sites and Ferol Vernon Pricing Analysis
Free Kids eBooks: 16 Free Reads for the Little Ones to Download Sites
OverDrive is a free program provided by the nearest public library or school to enjoy eBooks and audiobooks. Ebooks and audiobooks may be borrowed at any time and on any computer. A free library card or student ID is all that you require.
When each library or school chooses the interactive material that they want for their customers, you get subtly different content. You will use their Libby app, Sara or Overdrive app to gain links to free Ebooks or audiobooks other than OverDrive.
Sharing an ebook is an online repository of over 200 books that can be lawfully accessed free of charge in PDF format and without registration. This is useful since nearly all paper readers and ebook apps are able to read PDF files.
Snewd is a free eBook Accessible Internet Initiative created to offer high-quality, free eBooks to the public with collection sources from common sites such as Project Gutenburg. Snewd formats the raw files of public domain books and then publishes them in professional-style eBooks.
As a Snewd customer, if you have any concerns, you can subscribe to their mailing list and get alerts on the newly released titles as well as email them directly. You can also learn that it is quick to navigate the UI.
CrazyBooks is an online repository where, using a free user account, you can either follow the book links to buy them on Amazon or read them for free. You may submit reviews directly to the administrators of the web, browse books by groups, and check for books by title and writers, much like the other choices on this list.
Given that all its tags so far are art, fantasy, biography, religion, technology, and history, CrazyBooks seems like a pretty new project. Nonetheless, it has a user interface that is simple to navigate and could just be on it for the books you are searching for. 
ArdBark is a service for connection finding that directs users to many ebooks. It serves as a repository for a number of links found online and does not host any files on its servers, unlike the alternatives in this series. It includes links to more than 7000 ebooks in all types and the ebooks themselves are categorized into free and non-free ebooks; only Ardbark Pro, Ardbark Simple, Ardbark Beginner and Ardbark Gold members have access to the non-free ebook material.
If you are not positive about subscribing to a subscription, you can register an account to take advantage of the free 7-day preview. At any moment, you will cancel. 
Another reputable website for uploading free ebooks and audiobooks is Free-eBooks.uk and it already houses over 100 of them. The books are divided into fiction, non-fiction, textbooks, audio books for fiction, audio books for non-fiction, textbooks, and children's books and are accessible in ePUB, Kindle, TXT, and PDF formats. One cool Free-eBooks.uk feature is the opportunity for consumers to sample the titles they are interested in before installing them. 
The PDF Room is an amazing source of online and without registering with over 115,000 ebooks in PDF format. Through offering links to millions of PDFs for users to navigate from any browser, its goal is to contribute to the online environment. Users will see the book's year of release, language, page count, and size in MB at a glance while using the PDF Space.
That's the top of the list for us. I hope you liked reading the article as much as you would love reading these e-book pages with your favorite books.
Looking for ebooks that are free? BookBub presents limited-time sales from both top-tier publishers and critically-acclaimed indie writers for the latest online books in over twenty genres. All tablets, including Kindle, Nook, iPad, and Android, are compatible with these free ebooks.
Books on dBooks.org are gathered from open-source resources, such as publisher websites or blog posts by the books' authors. DBooks.org also allows writers to post their ebooks.
Books on dBooks.org are gathered from open-source resources, such as publisher websites or blog posts by the books' authors. DBooks.org also allows writers to post their ebooks.